March On! ...the history of the
Toronto Optimists Drum & Bugle Corps
Toronto, Ontario, Canada
Vern Johansson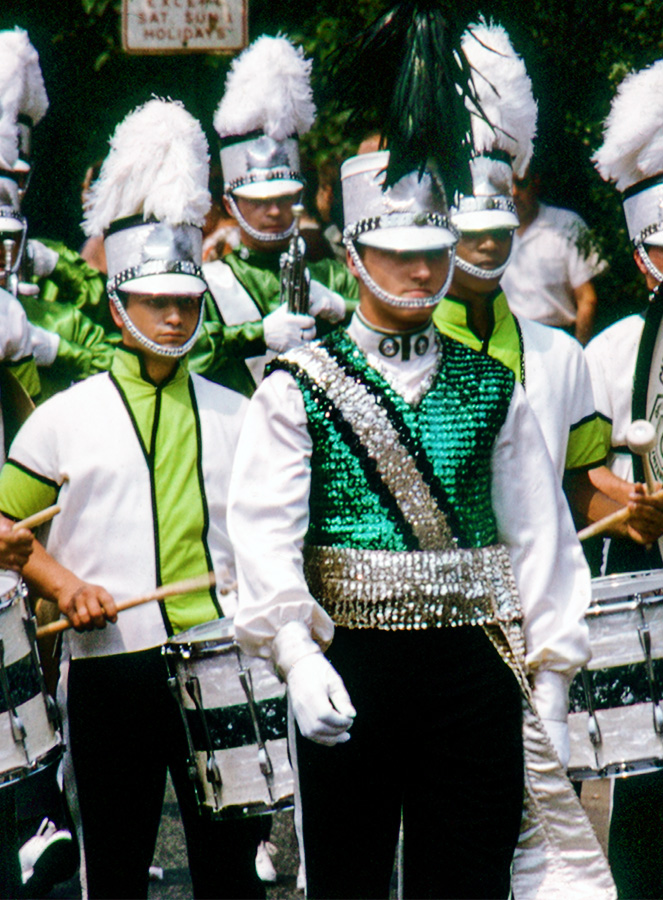 Corps: Bantam Optimists, Toronto Optimists, Optimists Alumni
Vern began his drum corps career in 1961 as a drummer in the Bantam Optimists. Later he tried other instruments. In early 1964 the Bantams folded and Vern, together with most of the Bantam members, moved to the Toronto Optimists. During the 1964 season Andy Henderson was Drum Major while Vern became assistant drum major. Vern skipped the 1965 season to briefly explore a career as a rock musician; however, he returned as Drum Major in 1966, serving all the way through 1970.
Vern was one of the founders of the Optimists Alumni Drum Corps and served as its first Drum Major from 2002 through 2004. He returned as a drum major on an occasional basis during the 2006, 2008 and 2009 seasons.
Vern often worked behind the scenes to make things happen. He was involved with Barry Bell's entrance into the Drum Corps Hall of Fame as well as Lorne Ferrazzutti's successful admission to the World Drum Corps Hall of Fame. In addition, Vern, Steve Vickers of Drum Corps World and others tried, more than once, to have Don Daber admitted to the Drum Corps Hall of Fame. Sadly, those attempts ended in failure.
Many years ago Vern put together a History of the Optimists for Diceman Radio. Here are links to various versions of that history:
Letter from Vern's family
Dear friends,
It is with a tremendous amount of sadness that we announce Vern's passing after a short bout with cancer. He will be greatly missed by his beloved wife of fifty-one years, Jennifer, by his daughter Adrienne, and his son, Brendan. Vern was also beloved 'Grumps', to his grandchildren, Jet and Laurel. He will be greatly missed by his sisters and brother, and of course, by all of his friends.
Vern was a kind, compassionate, hard working, quick witted, uniquely funny, and most importantly, a truly loving man. All of the above attributes (perhaps with the exception of 'loving') contributed to his great success in the world of advertising, where he started as a copy writer, working his way up to Creative Director, where he lent his unique perspective to many successful campaigns for notable brands (Honda, Molson Canadian, the Toronto Blue Jays) during the 80s and 90s.
It was during the 90s that Vern discovered a much easier way to make a living, using his strong voice to voice overs for both television and radio. He told you that Mr. Christie makes good cookies, that Canadian Tire was for more than just tires, and he was both a little ashamed and a little proud that he tried to get you to try McDonald's pizza when they launched that ill-fated endeavour.
After over thirty years living in Etobicoke, Vern and Jennifer moved to the small town of Waterford, ON, where Vern truly embraced small-town living. He took up volunteering and fundraising for local causes, and he discovered a new passion, working in local theatre. From writing and directing short plays for the Waterford Lantern Tour, to acting in a one man show about Mark Twain, Vern loved to perform.
And that love of performing was honed as a teenager when Vern joined his life-long passion, drum corps. As a drummer and then Drum Major for the Toronto Optimists, Vern made many, many memories and life-long friends that he always cherished.
Vern was extremely fond of all the dogs his wife Jennifer showed up with over the years, with Tess the Bernese Mountain Dog being his greatest companion. If you are so inclined, please honour Vern by making a donation to your favourite animal charity.
Due to Covid, there will be no funeral, but we are hoping to have a celebration of Vern's life sometime in the spring, at the much loved Shrine on Lakeshore Ave. in Toronto. Vern always said this is where he and Jennifer met, whereas Jennifer says they first met at Porter Stadium. It was one of the few things they disagreed on.
Thank you. – Jennifer, Adrienne, and Brendan
Here are a few comments from some of those who knew Vern.
"He will always be remembered as a class individual and a great loss to the Drum Corps community." (Rick Allen)
"He was a gentleman and a scholar. Parade Rest, Vern. Your job here is done." (Joel Alleyne)
"One of the kindest, caring people I've ever known. We've lost a true Champion. RIP Vern, you will be truly missed." (Mel Dey)
"One of the classiest gentlemen I have ever known, this is heartbreaking news." (Thom Sacco)
"May we take time to remember all the good times spent with Vern. He will live forever in our memories." (Thom Sacco)
"He is a great guy, he was always supportive around the corps, and fun to talk to." (Barry Woods)
"I'm very saddened to see this. Vern is one of the funniest men I have ever met. So caring. So giving. It would be hard to meet a nicer guy than him." (Kevin Matthew)
"Although he was a bit after my time in Optimists, I met him later and knew him well over the years. He is a wonderful and caring person. None better. " (Warren Berger)
"Vern, you were a fantastic human being. My condolences to all that loved him. Now him and my Dad can hang out together again." (Alison Wright)
Vern . . . . . . . . . . . . . . . We Remember!