March On! ...the history of the
Toronto Optimists Drum & Bugle Corps
Toronto, Ontario, Canada
Ted Shaw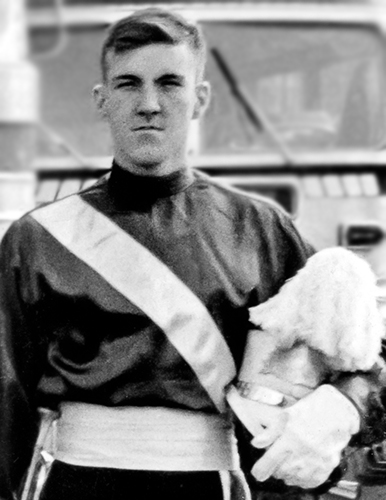 Corps: Don Mills Sky Raiders, Toronto Optimists
October 17, 1940 — July 9, 2004
Ted began his drum corps career with the Don Mills Sky Raiders then joined the Optimists in 1959. He stayed with Optimists until he aged out in 1961. The photo on the right was taken in 1961, after Ted's last performance with the Optimists at the Grape Festival in Welland.
Ted married Ann in 1962 and started their family. Working as an aviation insurance specialist for Reed Shaw & McNaught; Ted, Ann and their two children moved to Winnipeg in 1972. Ted was a Senior Vice-President with Aon Insurance working for the company for 32 years. He was a past President of the Manitoba Insurance Brokers Association. Ted fought a brave battle with cancer during his last year.
Ted played Baritone. He was known as a quiet, solid and dependable corps mate. He was a good horn player, had a wonderful sense of humour and was an all-round great guy.
Ted. . . . . . . . . . . . . . . We Remember!