March On! ...the history of the
Toronto Optimists Drum & Bugle Corps
Toronto, Ontario, Canada
Randy Cochrane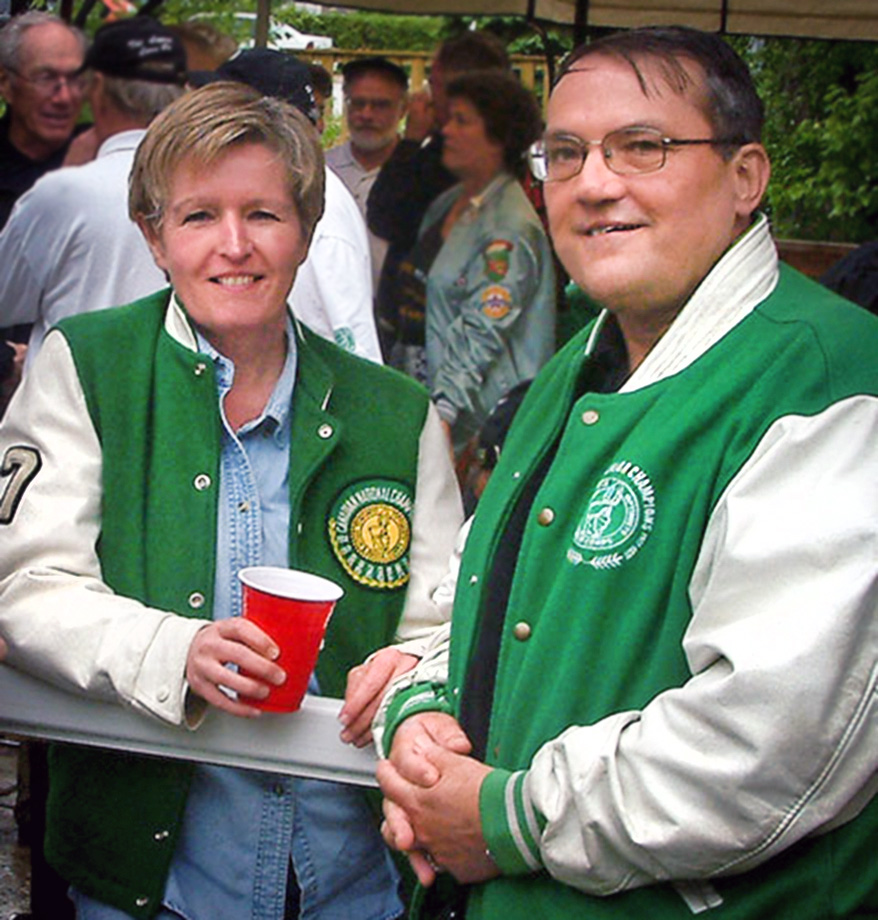 Corps: Toronto Optimists
A message from Randy's wife, Rita:
It is with a heavy heart that I share that my beloved husband of 46 years, Randy Cochrane, passed away early Monday morning after complications following surgery. Randy and I were blessed to spend so many years together and grow our amazing family, including our two sons (Jason & Trevor), daughter (Jamie), daughter-in-law (Emily) and three grandchildren (Benjamin, Bryce, and Nora).
Randy and I met when I was in Optimist Lancers (and later Etobicoke Crusaders) and he was a member of the Toronto Optimists, where we ultimately made many incredible memories and lifelong friendships. Randy shared his stories and deep love of the activity with his whole family. All three of his children, and many nieces and nephews, became members of Kiwanis Kavaliers, Rochester Patriots, Crossmen, and the Emerald Knights, where Randy volunteered his time over many weekends and during competitions. It was clear to all who knew him how grateful he was to have known so many of you.
We know Randy has touched many lives and will be deeply missed. We will continue to celebrate and honour him for the incredible man he was; a loving husband, father, grandfather, brother, uncle, cousin, and of course, friend.
We will host a celebration of life in the coming weeks and will share details once available.
In lieu of flowers, we ask for donations in Randy's honour to SickKids. Warmly, Rita (and family)
Here are a few comments from some of those who knew Randy:
"As a rookie in the Optimist Randy was everything a role model could be. With greatest respect and admiration he will be missed." (Séan Williams)
"I met Randy in 69 during my corps years & remember him as great individual with a big heart!" (Dwight Angus)
"Randy was a great great guy, dedicated, giving, just an all round wonderful person! I will cherish all of my memories of our time together." (Jim Kane)
"I had the great fortune to march with the two of you in the Toronto Optimists and I recall both of you being just wonderful people." (Richard Martin Bruton)
"I loved my time in Opti with Randy. He was the hardest working drummer and had a great sense of humor to boot." (George Kopetski)
"When I took over the corps in the fall of 74, Randy was a well-respected member. I recall relying on Randy and other stalwarts at the time that influenced some of the decisions I made. Randy was very dedicated and mature as an individual; he made the Toronto Optimists better for his being there." (Doug MacKenzie)
"Randy was the ideal of what it meant to be an Optimist member, gentleman, brother and friend." (Brian Hogan)
"I had aged-out before Randy joined the Optimists but we connected when I took over the Optimists Alumni website. Randy sent me numerous photos and identified many corps members who came after me. His support and encouragement meant a lot to me and I learned what a wonderful person he was!" (Bob Carell)
Randy. . . . . . . . . . . . . . . We Remember!