March On! ...the history of the
Toronto Optimists Drum & Bugle Corps
Toronto, Ontario, Canada
Glenn Copp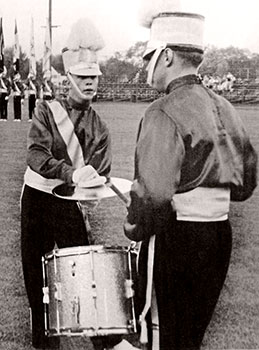 Corps: Toronto Optimists
Glenn played Cymbals with the Toronto Optimists from about 1959 through 1962. Many who go back to the early days of the Optimists will remember Glenn's cymbal dance during "In The Mood". Glenn joined the Alumni Corps at its inception and continued marching with us until about 2008. Of course, he played cymbals but he occasionally carried a flag when we needed support in that area. Glenn also helped with fund raising. In fact, he helped out whenever and wherever he could.
Glenn will always be known for his: "do it himself" attitude, love of jazz radio and classic cars, mechanical aptitude, his willingness to help others, an extensive career at The Toronto Dominion Bank and being a strong provider for his family.
Here are some comments from folks who knew Glenn.
"Talk about commitment! Glenn installed floor to ceiling mirrors in his basement so that he could practice his cymbal moves and see how they looked. He also had a variable speed record player so that he could slow down the music and perfect his moves. What a guy!" — Rick Shearer
"Glenn was a clever guy. I recall a late night trip to New Jersey with Optimists (probably the Preview of Champions), where he had an inflated air mattress (with sleeping bag, pillow, etc.) that he spread out in the aisle of the bus to get a good night's sleep. The rest of us were trying to sleep in the seats as best we could (a couple of guys stretched out in the overhead luggage racks). Glenn made a dramatic swan dive onto his bed, only to crash to the floor, as someone had let the air out of the mattress when he wasn't looking. " — Mel Dey
Glenn. . . . . . . . . . . . . . . We Remember!